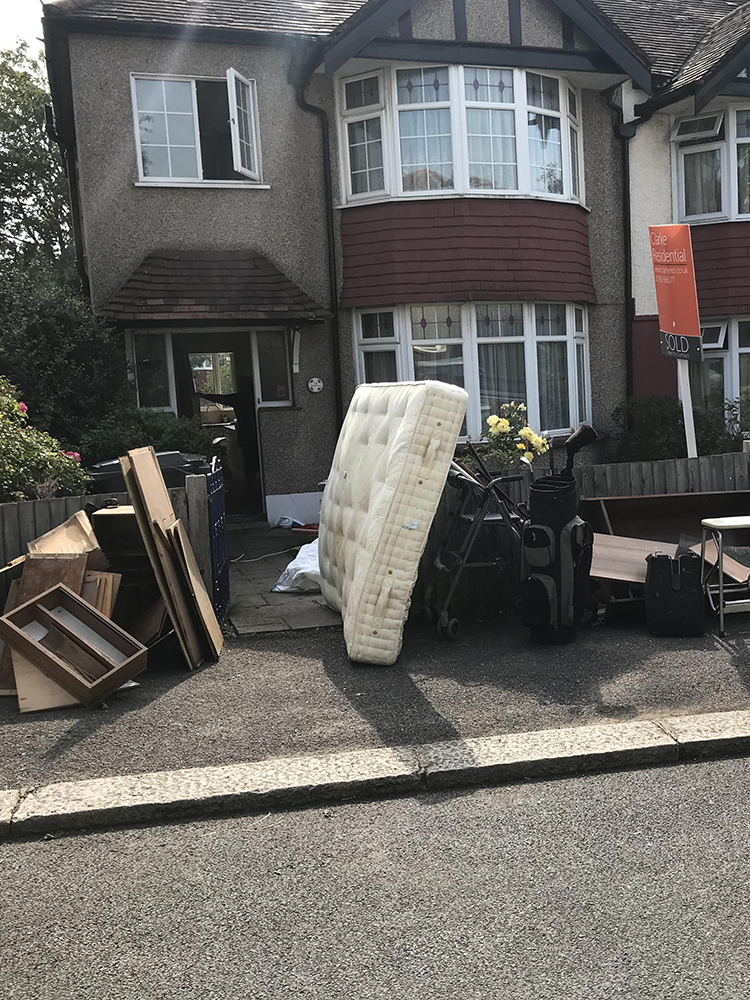 House Clearance – Short Notice Service
Get your home expertly emptied at very short notice with our house clearance service, we clear all old used furniture, loose junk & Bric-A-Brac in London & surrounding areas.
Our clearance teams will arrive & clear any size house that needs to be emptied at very short notice, removing unwanted bulky furniture like wardrobes, sofas, beds, mattresses, display cabinets, chest of drawers, table & chairs, Bric-a-brac, junk, clothes, cupboards emptied as well as electrical items, white goods, all cleared same day of arranged bookings.
We clear absolutely any loose furniture & general junk & dismantle any larger bulky furniture, that don't fit through doors for removal, we also clear all junk from sheds, garages, attics & cellars on all part or full house clearances.
We are often contacted at short notice, after charities have turned up to clear a house and only select the best quality furniture, leaving the house still full of furniture & general junk, if you get this experience, get in touch, we will fully empty any property at short notice, same day of arranged booking of your house clearance.
Got furniture that can be reused, we always look for items on all clearances to donate to charity so we select, in demand furniture & Bric-a-brac that we can reuse or donate, when completing a full house clearance.
Just sold a house, if you & your solicitor has finalised a house completion date for your house sales, we will completely clear all old furniture, junk, Bric-a-brac from your house, flat or bungalow same day.
Our professional property clearance teams are friendly, well-trained, and highly experienced. We ensure that all house clearances are performed in a safe and professional manner. We also carry third party liability insurance, so you are fully covered in the unlikely event of an accident and we are fully licensed to handle your old furniture junk & waste.
If you have any questions or would like to make a booking, call us on our Freephone number 0800 612 9477 or call or WhatsApp photos of furniture & all Junk you want removed to 07725 233178 Continue reading to learn more about our house clearance services.
Quick Response House Clearances
We guarantee to get your property emptied same day of your booking, our house clearance team will arrive with in a 2 hour arrival slot in a large capacity bulky waste truck to clear all your old furniture, junk & Bric-a-brac that needs to be cleared, we operate all across London & surrounding areas at very short notice.
Our house clearance team will begin by clearing your rooms, one at a time in the property, removing all furniture, electrical appliances, fridges, and cookers. As well as bagging up loose junk & clutter & Bric-a-brac lying around the property or inside cupboards, we will also dismantle any large wardrobes, or anything that can't fit through doors & hallways.
Our clearance team will bag up all loose clothes, books, loose junk, Bric-a-brac pots and pans, and general rubbish when clearing every room, from inside cupboards & any wardrobes in the property, leaving your property and storage spaces completely empty.
Garage Clearances Same Day Service
We empty any garage removing unwanted junk from your garage, including old lawn mowers, furniture, bicycles, toys, boxes, old used furniture, loose wood, old building materials, old stock, white goods, mattresses, beds, bulky waste, all electrical appliances, we don't accept paints of liquids or any other hazardous liquids or materials but take care of everything else you want removed on your garage clearance same day.
Total Promise To You
House and Flat Clearance London is a fully licensed waste carrier and we are working towards keeping Britain tidy from increasing fly tipping in the UK, we will clear the waste from your home, we are a licensed waste carrier & price check on a daily basis so we can offer you the best budget price in the industry. You can rest assure, knowing you are getting the highest level & a low cost cheap house clearance service in London.
Why Choose House and Flat Clearance London?