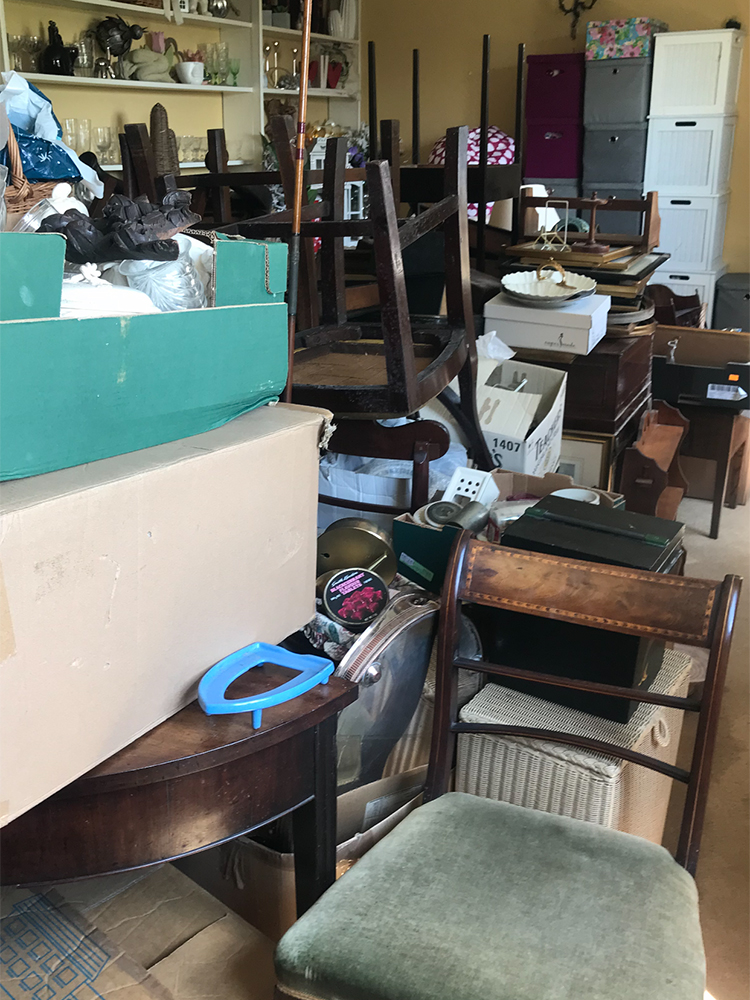 Cluttered House Clearance London
Cluttered house clearance, we clear any property full of junk & furniture, so if you need to create a lot more space and in need to have a declutter in your home our House and flat clearance removal team will attend your home and remove any clutter you need removed through out your home.
We remove any junk you want removed as well as all furniture that is over filling your space, we can get your home clutter free in no time. We offer a same day cluttered house clearance service, our house and flat clearance team will have your home empty of all your junk and clutter waste.
Items we can remove include emptying your storage cupboards, removing all furniture, emptying your garage space, sheds, lofts and cellars, so if you need to declutter your home you can get in touch to arrange a fast clearance, we load all and clear away in our bulky waste rubbish trucks.
If you dream of a clutter-free home but just don't know where to start, House & Flat Clearance London are the team for you! We serve Central London, Hertfordshire, Essex, and most other surrounding areas for all of your clearance needs, whether you have a tenant that has just moved out and you need to get your property ready for new ones to move in, or if you've simply decided that now is the time for a complete clear-out of all that
old junk lying around in your family home.
We can clear items on any floor of your house or apartment; even if there's no lift and we have to take the stairs, we're always happy to safely and conveniently dispose of your items of clutter.
We provide full and partial house, flat, garage, loft and cellar clearance services to meet your needs, from one-item collection for large pieces such as sofas and mattresses, to mass clear-outs of personal items like clothes, books and paperwork.
House Clearance is a simple as 1, 2, 3..
1. Book a house clearance time slot that suits you and your busy schedule. We'll give you a call when we're on route – within 45 minutes of arrival.
2. Our clearance team will arrive to clear your unwanted items from your house, garage, loft or cellar. You don't have to do a thing but open the door for us.
3. Enjoy the tranquillity of your reset home, while we dispose of your items (recycling where possible, to reduce the amount of waste going to landfill).
We are fully Licensed and insured with third-party liability insurance, and we do absolutely all of the heavy-lifting so there's no need for you to move a muscle! We'll box, bag and pack all of your unwanted belongings and remove everything from your property in next to no time, before taking your waste to be recycled or correctly disposed of.
Dismantling largepieces of furniture – like wardrobes and bed frames
Simply let us know and we'll take care of it! Call us now on our freephone number 0800 612 9477 to talk to a member of our team for more information.
Our clearance service includes the following items;
- Furniture and white goods, including sofas, bed frames, mattresses and refrigerators
- Electrical goods, including kettles, computers and cameras
- Personal items such as clothes, books and kids' toys
- Garden waste including patio furniture, lawnmowers and bags of debris
- General household waste and more
We guarantee a clean, clutter-free space after our house clearance service, letting you get on with your life without all of that excess baggage! The only items we don't remove are chemicals, paints and solvents, but any other items you wish to get rid of are no problem for us at all.
Why Choose Us for Your Cluttered House Clearance?
Efficient
Experienced clearance teams trained to quickly remove items from your property, so you can go about your day.
Reliable
Count on us to be punctual and professional, as we maintain a strict schedule, so there's no waiting around.
Affordable
A commitment to providing the best value clearance services in London, with daily price-checks and tailored quotes.
Fully Licensed and Insured
We are a fully-licensed waste carrier, with third-party liability insurance, and safety is always our priority.
Exceptional Customer Service
We are proud to offer you an attentive and informative service that works with you to meet your needs.
If your house (or flat) needs a full or partial declutter and clearance, feel free get in touch with us on 0800 612 9477. We will be happy to provide a free, no-obligation quote, and answer any questions you have about the process, our team, or availability.
For a more comprehensive list of the items we collect click here
Sofas, Cupboards, Kitchen Sinks, Mattresses, Desks, Wardrobes, Bath Frames, T.V's, Desktop Monitors, Freezers, Fridges, Cookers, Ovens, Extractor Fans, Kitchen Cupboards, Microwaves, Skirting, Window Frames, Wallpaper, Builders Waste, Cushions, Garden Benches, Garages, Dishwashers, Washing Machines, Bathroom Sinks, Chairs, Armchairs, Kitchen Stripping, Bathroom Stripping, Office Stripping, Garden Chairs, Carpets, Rugs, Floor Tiles, Wall Tiles, Laminate Flooring, Consoles, Console Tables, Gaming Chairs, Printers, Bikes, Radiators, Conservatories, Conservatory Furniture, Bed Frames, PC's, Sound Systems, Dining Room Chairs, Dining Tables, Cabinets, Chests of Drawers, Mirrors, Bedside Tables, Garden Benches, Kitchen Lighting, Blinds, Curtains, Doors, Coffee Tables, Lamps, Kitchen Tables, Shelves, Tables, Office Chairs, Book Cases & Windows, and more…