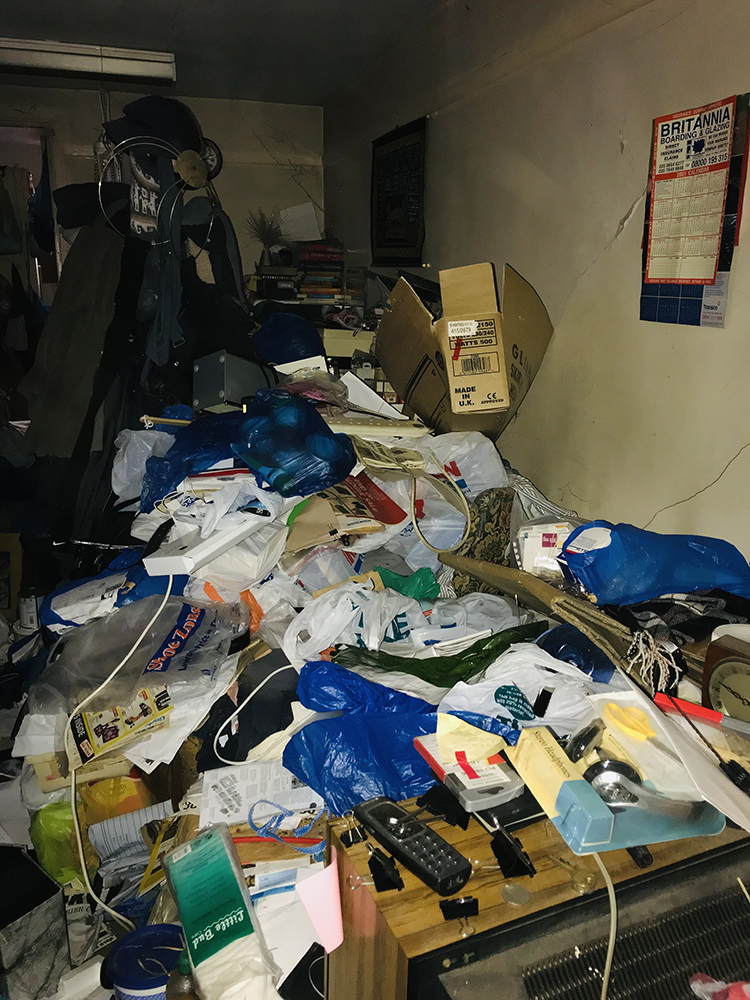 Hoarding House Clearance London
A property that is over run with loose hoarders waste is what we clear for our clients, so if you need loads off bulky waste furniture removed, loose junk scattered everywhere, books, magazines, papers, Bric-A-Brac, clothes, kitchen cupboards cleared out, sheets, beds, mattresses, tables, wardrobes, cellars and lofts emptied.
We clear all extreme hoarding rubbish with in any property, so if you have inherited a house completely full of decades of hoarders waste & clutter and you want it all gone, then we can get your property ready for the open market and get the property all cleared for you, prior to a house sale.
Over 90% of all extreme hoarding houses we empty are being managed by friends & family, who are finally getting a chance of managing the clearance of a property for a family member or friend that hasn't coped with years of hoarding, House and flat clearance run a very sensitive but thorough hoarders clearance service, clearing any size property from a single room, small bedsit, bungalow, flat's on any floor and house's any size, so if you can't see the floor boards in the property as its covered with all sorts of cluttered junk, storage cupboards completely full of clutter, packed shelf's everywhere, loose piles of & hoarders rubbish everywhere and living rooms totally overfilled we clear everything.
Serving the London area and surround, we are fully-insured, fully-licenced with third-party liability, and are able to remove virtually any items (in any condition) from your home, from large pieces of furniture and white goods to clothing and electrical waste – and pretty much everything in between (though we don't take solvents, chemicals or paint). Call us on our freephone number now at 0800 612 9477 for more information.
House Clearance is a simple as 1, 2, 3..
1. Book a house clearance time slot that suits you and your busy schedule. We'll give you a call when we're on route – within 45 minutes of arrival.
2. Our clearance team will arrive to clear your unwanted items from your house, garage, loft or cellar. You don't have to do a thing but open the door for us.
3. Enjoy the tranquillity of your reset home, while we dispose of your items (recycling where possible, to reduce the amount of waste going to landfill).
There's no need to pack or bag-up anything yourself, as we'll take care of everything, and our clearance team can not only remove your hoarded items but are also able to dismantle any large items – such as bed frames, wardrobes and cabinets – that won't comfortably fit through the door. Either place all of your unwanted items in a designated pile (or room), so that you can sit back and relax while our team clears it, or you can work alongside our team to direct us as we go.
Our clearance service includes the following items;
- Furniture and white goods, including sofas, bed frames, mattresses and refrigerators
- Electrical goods, including kettles, computers and cameras
- Personal items such as clothes, books and kids' toys
- Garden waste including patio furniture, lawnmowers and bags of debris
- General household waste and more
We understand that sometimes it can be difficult to let go of certain belongings, but we are absolutely sure that your home will be looking better, brighter, and more spacious than ever by the time we're done – giving you that fresh start that you're looking for. We offer 2-hour time slots to fit around your schedule (with as soon as next-day appointments), and we guarantee that your property will be emptied on the same day as your booking never have to wait around for us to come back to finish the job.
Our professional clearance team are friendly and highly-trained, so that all property clearances are performed safely and efficiently, and we are happy to be contacted at short notice if you've, for example, had charities come and select good quality pieces to take for sale whilst leaving the rest of your furniture, bric-a-brac and junk lying around, or if you've decided to have a last minute clear-out before moving.
Why Choose Us for Your Hoarders House Clearance?
Efficient
Experienced clearance teams trained to quickly remove items from your property, so you can go about your day.
Reliable
Count on us to be punctual and professional, as we maintain a strict schedule, so there's no waiting around.
Affordable
A commitment to providing the best value clearance services in London, with daily price-checks and tailored quotes.
Fully Licensed and Insured
We are a fully-licenced waste carrier, with third-party liability insurance, and safety is always our priority.
Exceptional Customer Service
We are proud to offer you an attentive and informative service that works with you to meet your needs.
If you have a house or flat that needs either part or full clearance, please get in touch with us on 0800 612 9477. We will be happy to discuss the clearance process with you if you have any questions, and can provide free, no-obligation quotes tailored to your needs.
For a more comprehensive list of the items we collect click here
Sofas, Cupboards, Kitchen Sinks, Mattresses, Desks, Wardrobes, Bath Frames, T.V's, Desktop Monitors, Freezers, Fridges, Cookers, Ovens, Extractor Fans, Kitchen Cupboards, Microwaves, Skirting, Window Frames, Wallpaper, Builders Waste, Cushions, Garden Benches, Garages, Dishwashers, Washing Machines, Bathroom Sinks, Chairs, Armchairs, Kitchen Stripping, Bathroom Stripping, Office Stripping, Garden Chairs, Carpets, Rugs, Floor Tiles, Wall Tiles, Laminate Flooring, Consoles, Console Tables, Gaming Chairs, Printers, Bikes, Radiators, Conservatories, Conservatory Furniture, Bed Frames, PC's, Sound Systems, Dining Room Chairs, Dining Tables, Cabinets, Chests of Drawers, Mirrors, Bedside Tables, Garden Benches, Kitchen Lighting, Blinds, Curtains, Doors, Coffee Tables, Lamps, Kitchen Tables, Shelves, Tables, Office Chairs, Book Cases & Windows, and more…