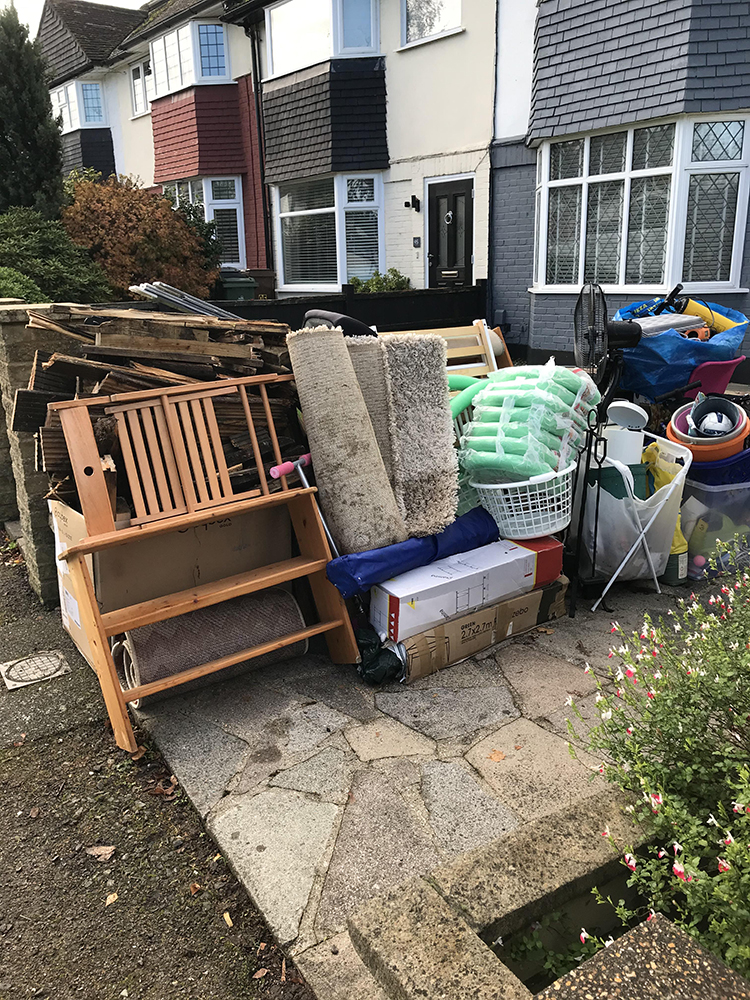 Rubbish Removal – Same Day Collection
Cheap rubbish removal same day service, we clear all unwanted rubbish, from your home, business, workplace, we clear all DIY waste, builders waste, junk, Furniture, sheds, garages emptied, gardens of all unwanted rubbish cleared, so if you need a cheap rubbish removal service same day we cover all postcodes in London.
We clear anything you want to dispose off same service as a skip hire, we don't use skips we are a man & van rubbish removal service, but with out the added expenses of skip permit charges & parking suspension costs, we clear any rubbish you want cleared including bathroom & kitchen strip out waste, junk waste, DIY waste, garage, shed, house rubbish waste, we are cheap London rubbish removal same day service.
House and flat clearance is a fully licensed waste removal service, so you can be certain that your rubbish will be cleared & we will issue a waste transfer note on your collection All work is performed by a rubbish clearance team & your waste will all be cleared same day on your arranged rubbish clearance appointment.
Best of all, our rubbish removal prices are very affordable! We offer super low cheap, low budget cost, rubbish removal services in London, For more information or to make a booking, give us a call on 0800 612 9477.
Same Day Rubbish Removal Service
We offer a same day rubbish removal service for all your unwanted rubbish. You can call our office and we will have a team at your door to clear all your rubbish away, we are the quickest in London.
When you use House and Flat Clearance London, you won't need a skip permit at all or need permission from your local council, We will simply park one of our trucks close to your property, we are quicker than any bulky waste council waste collection as well and we will load the rubbish into the back of the truck on the spot, then take it to the nearest Licensed commercial waste recycling disposal facility, for your bulky domestic rubbish removal.
We have a variety of trucks available, which can carry skips ranging in size from 6 yards through to 24 yards. Same day bookings are available or if you prefer, we can schedule a time and date in the future for rubbish collection.
Booking A Rubbish Collection
Booking a rubbish removal is simple. Give us a call on 0800 612 9477 to let us know how much rubbish you have and when you want to get rid of it.
We are much cheaper than a skip hire service and can provide part load quotes not like a skip, so all our waste disposal clearances are based on the volume and weight of your rubbish. No job is too big or too small, so if you only have enough rubbish to fill a small skip or a mountain of rubbish that requires multiple trucks, we've got you covered at very short notice.
House & Flat Clearance price checks on everyday, so we can offer clients the best price in the rubbish removal industry. Call us on our freephone no 0800 612 9477 for more information or to book rubbish removal in London.
For a more comprehensive list of the items we collect click here
Sofas, Cupboards, Kitchen Sinks, Mattresses, Desks, Wardrobes, Bath Frames, T.V's, Desktop Monitors, Freezers, Fridges, Cookers, Ovens, Extractor Fans, Kitchen Cupboards, Microwaves, Skirting, Window Frames, Wallpaper, Builders Waste, Cushions, Garden Benches, Garages, Dishwashers, Washing Machines, Bathroom Sinks, Chairs, Armchairs, Kitchen Stripping, Bathroom Stripping, Office Stripping, Garden Chairs, Carpets, Rugs, Floor Tiles, Wall Tiles, Laminate Flooring, Consoles, Console Tables, Gaming Chairs, Printers, Bikes, Radiators, Conservatories, Conservatory Furniture, Bed Frames, PC's, Sound Systems, Dining Room Chairs, Dining Tables, Cabinets, Chests of Drawers, Mirrors, Bedside Tables, Garden Benches, Kitchen Lighting, Blinds, Curtains, Doors, Coffee Tables, Lamps, Kitchen Tables, Shelves, Tables, Office Chairs, Book Cases & Windows, and more…